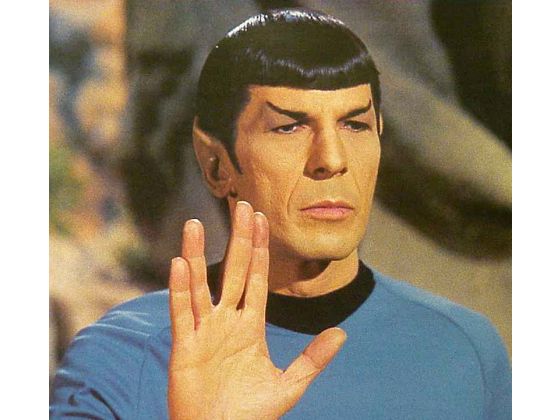 Leonard Nimoy was not just an actor, he was also a director, a writer, a poet, a photographe, a singer and an advocate. This is my tribute to him:
Did I have a crush on
Spock? Hell yeah I did!
He was the perfect man...errr...life-form...ummm...humanoid...fine, ok, he was an alien! But he was my alien and he was still the perfect catch. Here's why:
Tall, olive and handsome due to being a "green blooded Vulcan!" (as Bones would say)
Smart, analytical, precise, logical, he was the Science Officer after all
Stronger, Faster, Better
Longer Lifespan, disease resistant
Cool names like; Spock, T'Pau, Surak, Saavik, Tuvok, T'Pol, Sarek, Kuvak, T'Pring and the ever watchful Stonn
Great at hand-to-hand combat, secret moves like the Vulcan Nerve Pinch
Three words - Vulcan Mind Meld
He's a Legend among Vulcans even
Vegetarian, like ME!
That snarky, Know-It-All look with the cocked up eyebrow
Cool, Calm and Collected -emotionally controlled except once every seven years when...
Pon Farr turns him into a hormonally charged, wild animal!
And let's not forget about the parallel-universe, goatee-sporting Spock, or Vulcan lute playing Spock! Still sexy!
I therefore conclude that my attraction to Spock is totally logical and I love Leonard Nimoy for breathing life into him.
Star Trek: The Motion Picture (1979)
Star Trek II: The Wrath of Khan (1982)
Star Trek III: The Search for Spock (1984)
Star Trek IV: The Voyage Home (1986)
Star Trek V: The Final Frontier (1989)
Star Trek VI: The Undiscovered Country (1991)
Nimoy co-starred in the original six motions pictures of the Star Trek franchise, then came back to make cameo appearances in the latest two.
Star Trek (2009)
Star Trek Into Darkness (2013)
Nimoy acted in numerous television and film roles. Some of the more notable ones are his roles in Kid Monk Baroni, Night Gallerty, as Paris on Mission Impossible, Mustapha Mond from Brave New World and Dr. William Bell from Fringe.
His writing credits include not one but two biographies. The first, I Am Not Spock, written in 1975, was written before the full impact of Star Trek was realized. The second, I Am Spock, was written in 1995 as a reflection of his life living with the iconic character he helped to create.
Leonard Nimoy was also a poet, publishing seven books of poetry. His final tweet is both poetic and prophetic.
A photographer since a child, the most notable of Nimoy's work is The Full Body Project. A Peter Paul Ruben-esque collection of nude photos are full bodied women.
I recommend that you take a look at his gallery of work located at Leonard Nimoy Photagraphy. You can also shop for Leonard Nimoy art and apparel at his offical website store, ShopLLAP.
The list of Leonard Nimoy's accomplishments can go on and on and on. From singing on albums, writing screenplays, directing films and being a voice actor on video games, to appearing in music videos and cartoons. Suffice it to say that he excelled in a diverse range of careers.
In February 2015, Nimoy publically revealed that he had been suffering from Chronic Obstructive Pulmonary Disease. COPD is a degenerative disease where damaged lung tissue loses elasticity and therefore the ability to expand and contract. This causes reduced airflow and increased mucas build-up. Nimoy attributed the disease to smoking, although he quit over 30 years ago. He has been an advocate for quitting, often posting tweets urging others to quit. His last smoking related tweet, from January 10th, was the somber statement, "Don't smoke. Id did. Wish I never had. LLAP". Leonard Simon Nimoy passed away on February 27, 2015, due to complications related to COPD. The world will miss his spirit.
ive Long and Prosper. RIP